General Background







Places of Interest









Hardware







Various Resources







October of '99 Winner of the Palladium Elite Award
Sign the Guestbook
Read the Guestbook

Resource Guide to Desert Star



Geographical Location: Built on the ruins of Salt Lake City, Utah.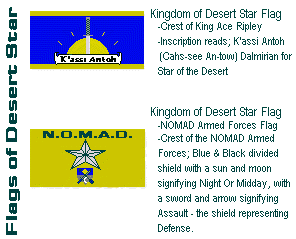 Average Temperature:
Summer: 86º
Winter: 25º
Average Precipitation: 35" yearly.
Population: 64,000
Breakdown:
Human: 23%
D-Bee: 77%
Nicknames: The Glittering City, City of Chrome, & The Fortress Kingdom. (Among the orbital communities, it is referred to as "The Alien Fortress of Utah".)
Political Structure: Absolute Monarchy, under the rule of King Ace Ripley and Queen Mahelian Shaquela, with an advisory status electoral Senate.
Political Affiliations: Strong ties with the Republic of Wa-Daisho, the Empire of Kyatashiro, and the Dictatorship of Kingsdale. It has respectable ties with Silvereno, the Hope Barony, the Kingdom of Tolkeen, and the Republic of Lazlo.
Political Adversaries: The Coalition States, with their strict anti-D-Bee/anti-magic policy, is fundamentally opposed to the Kingdom of Desert Star, and attempted to destroy the Kingdom early in its existance. Nomadic bands of barbarians known to the region as Wilders, also attempted a siege on the city that failed miserably. The growing Vampire Kingdoms have been a distant but looming threat as well, but very little vampire activity has been reported in the region thus far.


---

Map of Desert Star Circa 118PA

Introduction to Desert Star

Desert Star Places of Interest

Laws, Regulations, and Living Costs of Desert Star

Political Structure of Desert Star

Desert Star's N.O.M.A.D. Military

Desert Star's Industry, S-Mart

NOTE: The details contained herein are largely out of date. A large update, on the same scale as the Wa-Daisho project is planned, but is still on hold until other projects are completed.